Here's what's up – there's a lot of music options around the Midcoast this weekend. I've highlighted the coolest options for you and I've got some choices for every genre so there's something for everyone! But, for Thursday night, there's only one option because there is nothing cooler than seeing the Mallett Brothers Band play. Don't worry, if you miss them because tickets sell out, they'll be playing next weekend at the Lobster Festival in Rockland. And Will Mallett (& friends?) will play a special acoustic show at The Speakeasy in Rockland on Wednesday July 30, 7-10 p.m. $5 cover, or get dinner in the restaurant to waive cover fee. More info on that here. Don't miss it!
Thursday, July 24
ROCK: The Midcoast Music Fest at Round Top Farm Darrows Barn in Damariscotta  is bringing us the Maine alternative-country rockers The Mallett Brothers Band for the third and final night of the music fest. Get ready for delicious Maine food, oysters, wine & beer (thanks to those fabulous Damariscotta restaurants), and, of course, the best darn folk rock music around, and the sweetest little venue. Get your tickets ASAP, it always sells out. I got mine! Tickets are $15 in advance. Can't wait! FMI 207-563-1393 or www.damariscottariver.org. 

 Friday, July 25
It's Art Walk Final Friday in Belfast! Drop in to any downtown art gallery for a map of all the participating locations or click here. Then explore the Belfast galleries, meet the artists, gallery owners, and fellow art fans.Event is 5:30 – 8 p.m. Free. There will also be music/performances in town and arts & crafts for kids of all ages. Stop into Marshall Wharf Brewing Co. or Three Tides to sample their new Seaweed Beer that is making waves. They're calling it "Sea Belt". It's been featured on NPR & Huffington Post. It's their MacFindlay Scotch Ale but they've brewed it with dried Maine sugar kelp. Available at the brewery starting at 11a.m., then at both the main bar and biergarten bar starting at 4 p.m. Give it a try and then kelp yourself to another one! 😉
ROCK: Kick-butt Toronto based indie pop-rock band, The Box Tiger, will be rockin' the FOG Bar & Cafe. I dig this band. Give them a listen. The female vocals and their sound remind me of Karen O. They've got the edginess of the Yeah Yeah Yeahs and the softness of Rilo Kiley. Come check 'em out! Music starts at 9 p.m., $10 cover.
COUNTRY: Sharon Buck & Dixon Road play country & rock music at Trackside Station in Rockland.  21+, $3 cover. Music starts at 9 p.m. Click here for more info. Seriously, give these guys a listen. Sometimes I'm a little bit country. Let's go!
FOLK: The Ale House String Band will be livenin' up the Narrows Tavern in Waldoboro with folk music starting at 8 p.m. Click for more info.

POP: Saved the best for last! Local rockers Just Teachers will be bustin out some fun cover songs and mashups at The Speakeasy starting at 9 p.m.  You are definitely going to want to wear your dancin' shoes! Go here for more info. Cover fee is waived if you dine at The Speakeasy or Chowderhouse. 
Saturday, July 26
ELECTRO: Quantam brings the electronic beats to Rock City Coffee. They aren't going to know what hit them! Music is from 7-9 p.m. Free, but tips for musicians would be nice. Food, baked goods, coffee, beer & wine available for purchase. Click for more info. 
BLUES: If you've got the blues because you've been missing the R&B jamz since Bues Fest has come and gone, you're in luck because The Wicked Blues Band is back in Rockland! They're jammin' at The Speakeasy starting at 9 p.m., Event is 21+ and cover fee is waived if you dine at The Speakeasy or Chowderhouse. They've got a great dance floor and $5 drink specials on Saturday night, so bring a date and stay out late!
FOLK: Paddy Mills will be playin' his folky tunes at The Narrows Tavern starting at 8 p.m. More info. If you like a nice welcoming tavern feel and some good Irish and classic folk music, this is for you. Come in early, the bar has great food, and you can hang out and play games like Uno!
Rock: The Waterdog Tavern hosts Slygo Road. Bring on the rockin' blues & R&B tunes. Show starts at 9 p.m. No Cover. 18+ or w/ adult. They're fun and upbeat, perfect for you folks that like to boogy.
90s!!: Once again, saved the best for last! Portland's 90s cover band, Hello Newman, is going to rock the Myrtle Street Tavern. Get ready to dance to all your favorite 90s songs! Classic Sublime, Weezer, Blink 182, and all kinds of one hit wonders to bring you back to the '90s. You'll be saying "OMG, I love this song!" all night! I never miss it when these guys come to town and you shouldn't miss it either! Music starts around 9 p.m., 21+, $3 cover. See you there!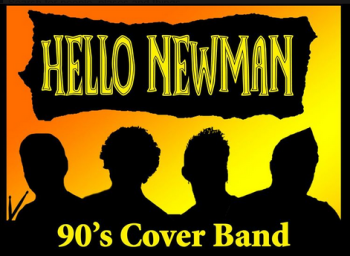 Sunday, July 27
Juke Rockets Blues Band will be bringin their swingin' blues music to The Pearl restaurant on the pier in Rockland from 1-4 p.m. Enjoy food, music and dancing on the deck, oh and $3 bloody marys and mimosas. It'll be ri-DECK-ulous! More info.
As always, full night life listings for the Midcoast available here. Thanks for reading!